BECOME A WILDLIFE PROTECTOR
Become one of our monthly adopters and help to protect some of the world's most vulnerable species that are critical to our ecosystem, from just $18 per month.

Click on a species to start now!
FEATURED SPECIES OF THE MONTH
Only 1 in 1,000 sea turtle hatchlings survive to adulthood. One action from you could save many turtles.
Adopt a Turtle >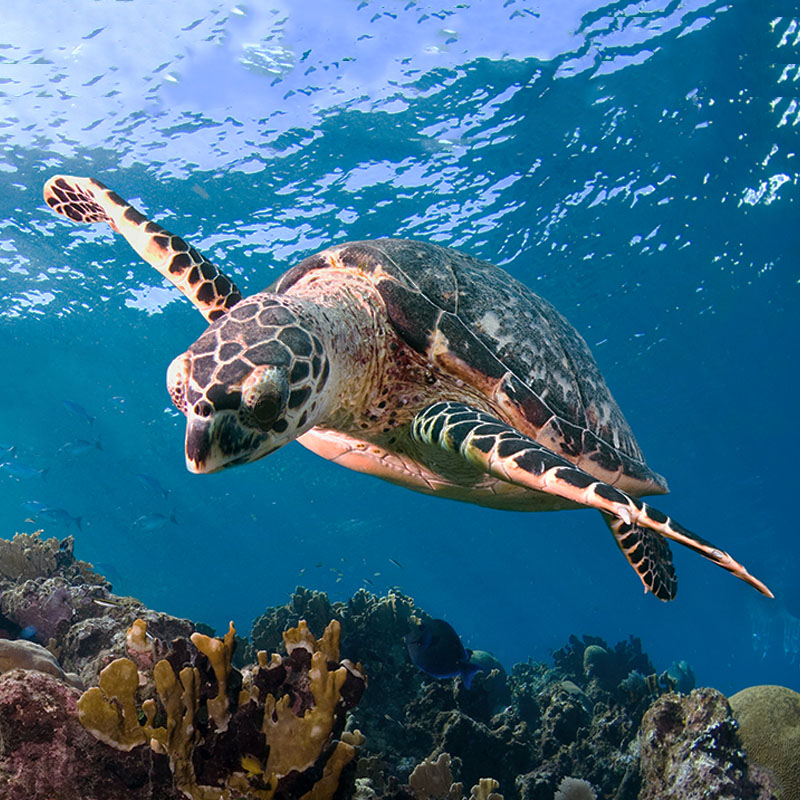 WWF helps endangered wildlife species by working on immediate threats to wildlife conservation and protecting the environment where the species live in. WWF does not single out an individual animal or families of a species to be physically adopted. Your donation is directed to field programs that support research works and habitat protection.

How do adoptions help conservation?

Your donation through our adoption program helps conservation and research efforts to preserve wildlife species and their habitats. The funds raised through your symbolic adoptions are used to help fight the many threats to wildlife's natural environment and safeguard these species in the long run.

Contributors may symbolically adopt an animal from a habitat that WWF is working to conserve. As conserving habitats will benefit more than one species, our symbolic adoption does not support only one particular animal, but instead helps in protecting many species from threats such as habitat loss, illegal wildlife trade, and climate change. Conserving habitats also helps keep the biodiversity flourishing, which in turn will also benefit people and communities.

When I adopt, am I adopting an individual animal?

This is a symbolic adoption, which means that you are not adopting a single species, but rather supporting conservation projects that help wildlife both directly and indirectly. By protecting the environment they live in, the wildlife will then be able to thrive and breed, ensuring sustainable populations in the long term.

How can I further support this adoption?

You can further support this adoption by opting to fund tools and devices through one-time donations, which can be made through your Wildlife Protector account! These donations will help in strengthening our conservation efforts in protecting the wildlife and the environment they live in.

Is my donation tax-deductible?

Whether your donation is tax deductible depends on the adoption program you are supporting. In Singapore, donations for a charitable purpose beyond local initiatives are not tax deductible.




Donations to the Pangolin Adoption program are eligible for tax deduction* as it covers our work on tackling the illegal wildlife trade in Singapore.

Donations to our Tiger Adoption and Shark Adoption programs are non-tax deductible in Singapore as our initiatives go beyond Singapore and cover key priority habitats such as the Coral Triangle and the Heart of Borneo, where the endangered species reside.

*Tax deduction rules are subject to changes and issuance of tax deduction receipts will follow the latest tax policies published by IRAS.

When will I get my welcome pack?

Upon a successful donation, our membership team will work hard to deliver your physical welcome pack to your provided address as soon as possible. However, we are facing certain workplace restrictions in the Covid-19 period, and hence we will be delivering your welcome pack within 2 working weeks. But in the meantime, you can still get your digital welcome pack in your

Wildlife Protector account

!

Is this a one time or a regular donation?

An adoption is a recurring donation as conservation work is never truly done in a day. As WWF is largely dependent on donations from good-hearted individuals like you, we really encourage that you step forward today through an ongoing support for our long-term conservation programmes, which will enable us to protect wildlife and their homes for a more sustainable future.

Where do I get my updates on my adoption from?

Thank you for taking an interest in learning more about the species you adopted! We will be updating you on any news or information through your Wildlife Protector account at adopt.wwf.sg. We will also keep you posted through email when we have new updates available, so do subscribe to our monthly updates!

When will my donation be deducted?

Upon making the donation, the donation will be deducted on the same day, and depending on the frequency you have chosen, the donation might be deducted on a monthly, semi-annually or annually from the day of your first donation.

Who do I contact for further questions?

You can always reach out to us with your questions at member@wwf.sg, or you can give us a call at 3129 4331. Our friendly membership team would be happy to give you a response.